Home
Blog
Shot Placement Is Vital When Crossbow Hunting for Turkeys
/
April 6th, 2020
The COVID-19 pandemic has shut down most areas of the country right now, closing most businesses and causing folks to stay at home.  Spring turkey hunting seasons across the country are either coming in now or will be starting in the next few weeks for most crossbow hunters, however some limitations have been placed on hunting activities in certain parts of the country.  If the season has not yet started in your state or in a state where you have planned to travel for hunting, we recommend checking with the state's Department of Natural Resources (DNR) for the announcement of any limitations.  If you have booked a hunt, we also recommend that you check with your outfitter to find out if they are allowed to remain open through this time.  To find a link to your state's DNR webpage, please visit our Crossbow Regulations page by clicking HERE. 
Crossbow hunting for wild turkeys is exciting, challenging, and rewarding.  Each spring, many turkeys are shot with crossbow bolts, but some are never recovered.  In most cases, poor shot placement is to blame, as a gobbler's feathers hide the outline of the turkey's body while it is in full strut, making it difficult for the hunter to determine exactly where the vital organs are located. 
Knowing where to shoot a turkey with a hunting crossbow is critical — as proper bolt placement can make or break your chances of harvesting the bird.  A turkey's vitals are only about the size of a softball — much smaller than the basketball-like size of a deer's vitals. Since the area that you need to hit is small, you need to know exactly how to select the ideal spot for your shot and that you can hit that spot accurately, with little margin for error.   
The diagram below shows the proper shot placement on wild turkeys from different angles that you will encounter in the field – quartering to you, facing you, facing away from you, and sideways. If a turkey is quartering to you when it is coming in, identify where the neck meets the body and aim about an inch low of that spot, while also aiming a couple of inches into the turkey's body from the front of the breast.  If a turkey is facing you when it presents you with a shot, identify where the neck meets the body and aim about an inch below it, or midway between the neckline and beard.  If a turkey is facing directly away from you, yes, you guessed it – shoot him "where the sun doesn't shine".  If a turkey is broadside or sideways to you, aim about an inch down from the neckline and a few inches into the turkey's body.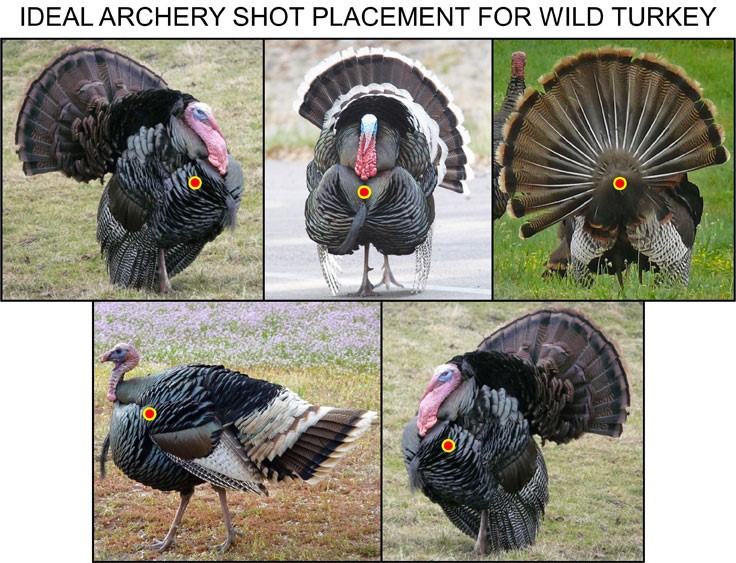 Since hunting turkeys with your crossbow demands greater accuracy, you should consider using the EVO-X CenterPunch Premium Carbon Arrow paired with the new EVO-X CenterPunch Broadhead. The CenterPunch Arrow has a shaft straightness of ±0.001 inch and each pack of arrows has been weight-matched to within 1-grain for greater flight consistency and down field accuracy. The CenterPunch Broadhead is a rear-deploying broadhead with a simple design that delivers field point accuracy and creates a devastating 1-7/8-inch wound channel. The CenterPunch Premium Carbon Arrow and the CenterPunch Broadhead were designed to be an accurate and lethal combination for your hunting crossbow, regardless of its performance.  Another good option is the Alpha-Brite Lighted Nock System, since shooting a lighted nock will allow you to track your arrow in flight and recover it quickly to check for blood after the shot.