Home
Blog
Six P's of Spring Turkey Hunting
/
April 5th, 2016
The early signs of spring are finally starting to appear in most locations around the country. For many hunters, the onset of spring means that turkey hunting season is just around the corner. For those of you who will soon be in the woods in search of a "long beard," we've tapped our Pro Staffer Ernie Calandrelli – a turkey hunting expert – for his Six P's of Spring Turkey Hunting.
#1 – Practice your turkey calls well before the season begins.
Give yourself plenty of to time perfect those friction or mouth calls. Then, try something different to broaden your horizons. Become familiar with different types of locator calls, such as Barred owl, Crow, Coyote howls, Hawks, Mallard Duck, Canada Goose, or any other animal or bird that may be in your hunting area that makes loud, audible noises.
#2 – Practice with your crossbow and make sure you are proficient.
Hone in your shooting skills by practicing from multiple distances and multiple positions to mimic the different scenarios you may come across while turkey hunting with a crossbow.
#3 – Pre-Season Scouting: Locate as many gobbling turkeys as you can before the season begins.
Take a ride at first light and stop by spots where you can hear for long distances. Use locator calls to communicate with the birds, determine their roost locations, and mark these spots down. You can bet the same gobblers will be within that same distance when the season rolls around. If you can't take an early morning ride, take an evening ride and keep your eyes on the fields for turkeys. Many times they will feed before flying up to roost.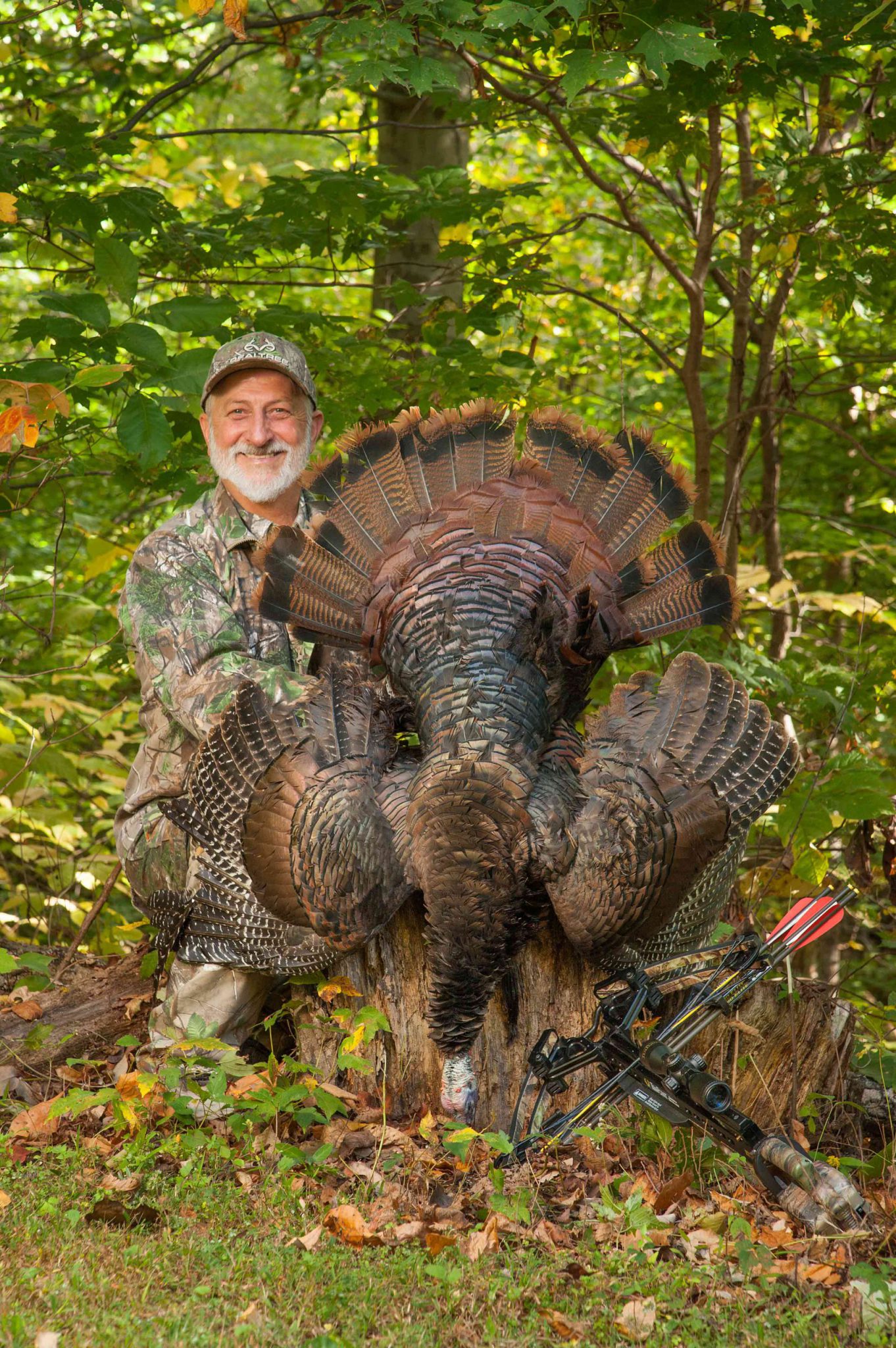 #4 – Patience: Need we say more?
#5 – Perseverance: As long as the season is open, stay after them!
Regardless of the weather conditions or the time of year, you must get out there to increase your chances of bagging the gobbler. It isn't going to happen by sitting at home or sitting in the cabin at camp. If a certain tactic hasn't worked for you in early-season, try something else – a different call, a different set up, etc. Turkeys will breed no matter what Mother Nature throws at them, so you must be willing to brave the elements and persevere.
#6 – Position: Be aware of your set up.
While the best set up is typically from above or at the same level of the bird, this is not always possible, as they may come down hill towards you. Regardless of the set up, make sure there are no obstacles or barriers (fences, ditches, creeks, roads, etc) in his way to get to you. Don't hesitate to try him from whatever position you may happen to be in…it just might work in your favor!
Remember, once you've got that long beard in your sights, you can count on the accuracy and precision you've come to expect from TenPoint, Horton, and Wicked Ridge crossbows to bag that gobbler.
Thanks and Happy Hunting!