Home
Blog
Budget-Minded Food Plots
/
July 22nd, 2016
When it comes to the average hunter, the phrase 'money is no object' is often completely inaccurate. Yet we are constantly told by hunting media that we should buy heavy equipment and plant large scale food plots on vast amounts of property if we want to grow and have opportunities to hunt these giant 200 inch whitetails we see on television. If you have the ability to do these things, Horton Crossbow Innovations has some terrific advice to help you start this project!
But the reality is, we hunt small acreage properties with little to no availability to cultivate ground, let alone access to even low end equipment. Our time is better used target shooting to prepare for the blessed opportunities we hope we get when we take time off work to hunt the rut rather than trying to hurriedly install a mediocre food plot that will end up with little to no yield. Or is it?
What most of us don't realize is that an ideal food plot can, indeed, be planted amongst our favorite grove of trees or big thick timber. They don't have to be open, neatly cleared spaces. Boneyard seed is a tremendous company with huge success planting these types of plots. With seed mixtures designed specifically for this type of planting, the hard part of deciding upon a location has virtually been done for you. Plant it wherever you want!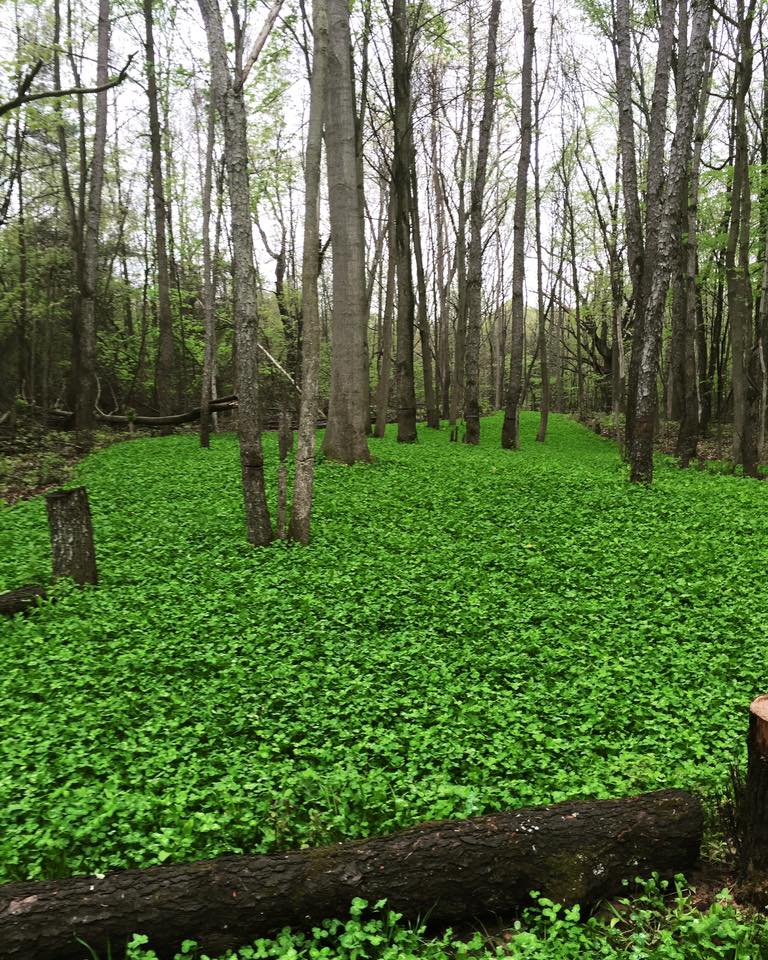 Now the work begins, but it can be done in just a day or two. A trip to the local agriculture store to buy some round up will prove worthwhile if your selected area has any ground foliage. Using a hand sprayer, and a simple stroll through the woods while spraying will do just the trick to keep those weeds at bay. Otherwise, all you need is a rake to clear the leaf litter from the forest floor.
The next step would be to turn the ground. If accessible, a regular walk-behind garden tiller will do the trick. Any means of breaking up the top layer of solid will do just fine, however.
Now it's up to you to decide on the seed. Keep in mind that certain seed mixtures require specific treatments as far as water and amount of sunlight per day, so be sure to read the labels carefully as you make a selection. Several companies have a hard woods specific blend, but what you really need to know is what type of clover it contains. White clover tends to do outstanding in indirect sunlight conditions and unlike other types of seed, it does not need much loose soil to germinate.
If you're afraid that it's now too late for you to start this process, fear not. Clover can be planted anywhere from the spring through the fall, and in southern states often times all the way through the winter. As long as there is rain in the forecast for the following couple of days thereafter, you are in good shape.
With some tender love and care, a little bit of American ingenuity, and some hard work, you can have yourself a fantastic small food plot to hunt over when hunting season rolls around.
There are some distinct advantages to these smaller, more hidden food plots too! Being tucked back in the woods allows you plenty of options to hang a tree stand within bow range. Another tremendous advantage is the cover itself. We all know that mature whitetail bucks are wary at first about entering a large field to feed. They want to be certain it is safe to enter. Creating a food source right in their own preferred domain just gives them a chance to browse in the cover of the timber before he makes his way to the larger crop fields.
With a food plot like this, you're set up perfectly to have a close encounter in ideal shooting light at a mature bruiser buck this fall so you can put your TenPoint crossbow to work!