Home
Blog
Are You Geared Up and Ready for Spring Turkey Season?
/
April 1st, 2019
With the arrival of spring also comes the prospect that turkey hunting season is now around the corner. The feeling of being in the woods on a crisp spring morning with gobblers firing off in every direction is indescribable. Is harvesting a big, beautiful gobbler one of your crossbow hunting goals? If so, here are some tips and gear recommendations to help you have a successful spring turkey hunt!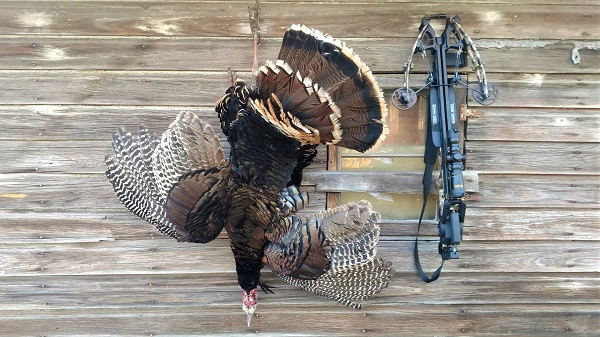 Archery Turkey Hunting Is Not Like Archery Deer Hunting
When it comes to using archery equipment, the way that you hunt for turkeys is likely different than how you hunt deer. Many states do not allow you to hunt turkeys from an elevated stand or over bait. Your set-up location may vary from one place to another based on where you have identified turkeys to be roosting the night before. You may have a gobbler that is tracking in to your calls but hangs up at a certain point and will not come any closer. The most effective way of hunting turkeys with your crossbow is to plan to be more mobile than you are during deer hunting season.
Being more mobile means that you should utilize a hunting vest or pack to store your hunting essentials, and that you can store these essentials quickly in the event you need to change your location. Beyond being an excellent way of protecting your crossbow, TenPoint's Blazer Soft Crossbow Case has backpack straps to easily transport your crossbow and other accessories into the field. The Blazer case has three large pockets for storing your quiver and arrows, monopod, and other accessories, along with molle straps on the outside of the case for greater storage capability. If you don't already use a sling on your hunting crossbow, you should consider using a TenPoint Neoprene Sling. The non-slip sling design features a sturdy 1.25-inch shoulder strap with an integrated elastic band and thumb loop for added shoulder security, in addition to custom swivels and a heavy-duty adjustable strap.
Since you will primarily be hunting turkeys from the ground, the SteddyEddy Crossbow Monopod System ensures steady, motion-free shooting while hunting in a seated or standing position. The telescoping monopod adjusts in length from 25-inches to 36-inches with a quick turn of the extension pole. The SteddyEddy attaches to your crossbow quickly using the 360-degree rapid-pivot tube equipped with an easy snap-on connection and comes with a storage clamp that can be mounted to your stock for convenient transport. You can also quickly detach the SteddyEddy from your crossbow for storage in a backpack or hunting vest when you are moving through the woods.
It Is Vital to Know Where A Turkey's Vitals Are Located
Each spring, many turkeys are shot with arrows but are never found. In most cases, the reason is that a turkey's feathers can mask or hide the outline of the turkey's body and can make identifying the vitals area very difficult. A turkey's vitals are only about the size of a softball and are much smaller than a deer's vitals. Knowing where to shoot a turkey is critical – as shot placement can either make or break your chances of harvesting the animal. Since the area you need to hit is smaller, you should also plan to practice shooting your crossbow with your arrow and broadhead combination. Being able to hit a turkey's vitals accurately can make the difference whether you recover the turkey or not.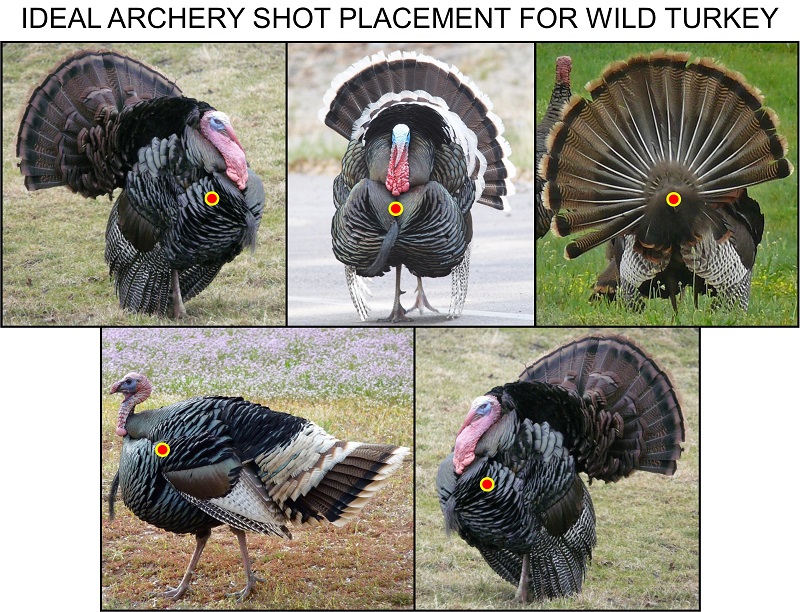 Since hunting turkeys with your crossbow demands greater accuracy, you should consider using the EVO-X CenterPunch Premium Carbon Arrow paired with the EVO-X CenterPunch Broadhead. The CenterPunch Arrow has a shaft straightness of ±0.001-inch and each pack of arrows has been weight-matched to within 1-grain for greater flight consistency. The CenterPunch Broadhead is a rear-deploying style broadhead with a simple design that delivers field point accuracy downfield and creates a devastating 1 7/8-inch would channel. Both the CenterPunch Premium Carbon Arrow and the CenterPunch Broadhead have been engineered to perform accurately out of high-performance crossbows but are a great combination for turkey hunting regardless of your crossbow's speed. Don't forget to order your arrows with the Alpha-Brite Lighted Nock System either, as shooting a lighted nock will allow you to better track your arrow in flight and recover it to check for blood after the shot.
Good luck to everyone crossbow hunting for turkeys this spring!