Home
Blog
A Special First Hunt for Jayden Barber
/
December 13th, 2019
There are times in life when you meet a special person who you would do anything to help succeed.  Jayden Barber is one of those people.  At age 12 he has already faced more in life than anyone should have to face.  Having had cancer multiple times in his right arm, dozens of surgeries, a bone marrow transplant and having a prosthetic bone placed in his arm, much of his childhood had been stolen from him by this unforgiving disease.   

Unable to play most sports due to the risk of injuring this arm he has been on a quest to find his "thing."  Early this fall Jayden came to our youth center, On Target Outfitters, and discovered he could shoot archery.  With the aid of some adaptive equipment he started experiencing success on the range and he became a regular at the club.   After hearing some of the adults and other students tell deer hunting stories, Jayden decided he wanted to try to hunt as well.  Those of us who had gotten to know him would do whatever it took to help him achieve this goal.  

We knew a crossbow was going to be Jaydens best option since he wasn't to the point of pulling 40-pounds with his compound bow and his arm could not take any type of recoil from a firearm.  One of the guys at the range set him up with a Horton Vortec RDX.  Another adult mentor met with him at the range to practice shooting from a Caldwell DeadShot FieldPod.   A third person from the youth center prepped the ground blind and made sure everything was ready for Jayden on his hunting property.  For me, I had the special privilege of accompanying Jayden and his dad for his very first deer hunt.
Jayden and his dad arrived at camp early on Sunday, November 24th, and we made it to the ground blind 20 minutes before legal shooting.  It was a cold morning with a couple inches of fresh snow on the ground, but inside the hay bale blind with our Buddy Heater we were toasty warm.  As the sun started to rise so did Jayden's excitement.  

The first hour was pretty uneventful and gave us time to review shot placement, practice finding the eye relief on the scope, and eat a snack or two.  After about an hour and a half I heard Jayden's dad whisper, "look" as he pointed toward the window of the blind.  Emerging from the thick brush surrounding the food plot was a 4-point buck, a great first deer for any young hunter.  I didn't have to tell Jayden to get ready as he was already getting positioned behind the Horton crossbow.  I reminded him to wait until the buck turned broadside, and as soon as it did, the bolt rocketed to life and within a fraction of a second disappeared behind the front shoulder of the deer.  The buck ran from the field but I knew it would not go far.

The look on Jayden's face after the shot contained a wide range of emotions – accomplishment, disbelief, excitement, pride and even a healthy twinge of remorse.  We spent the next few minutes in the blind reflecting on the moment and processing these thoughts and feelings, and every five minutes Jayden asked how much longer before we could go look for it.  After thirty minutes we started the track with Jayden leading the way.  Following the blood through a field edge of prickly multiflora rose bushes and down into a small ravine, Jayden overcame these obstacles as he tracked his trophy.  It wasn't long before we heard him shout with a new sense of self-confidence, "There he is!  I got it!".  I think Jayden left the field that day a foot taller than when he came and I believe his life will be forever changed because of it.  Jayden has been through a lot and there is a lot he hasn't been able to do, but maybe that day he found his "thing."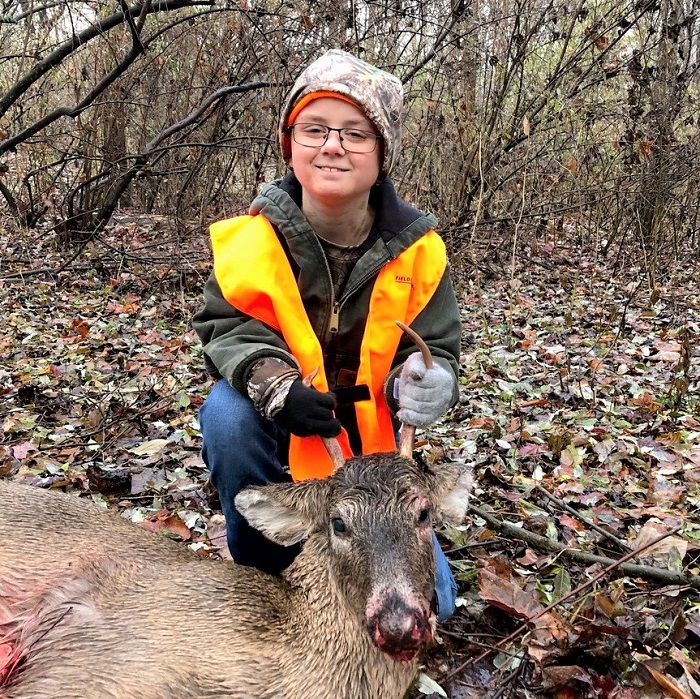 On Target Outfitters is a youth mentoring ministry, that uses archery, hunting, shooting, fishing and other outdoor sports as a way to instill confidence, ethics, values, and faith into a young person's life. The organization is founded and directed by Steve Scott, an NRA Certified Instructor for Rifle, Shotgun, and Pistol, an NASP Certified Archery Instructor, and an Ohio Hunter Education Instructor. He is a life-long outdoorsman and sportsman who has devoted over 20 years to children and family ministry. Steve and his family live in Ohio where On Target Outfitters is based. They spend most of their days outdoors.  Please visit ontargetoutfitters.org for more information.