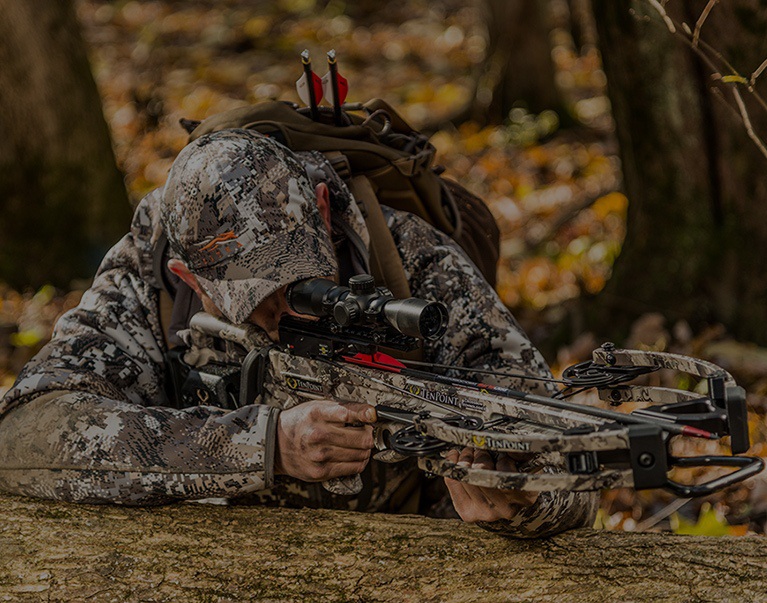 TENPOINT ACCURACY SWEEPSTAKES
RULES AND REGULATIONS
TenPoint Accuracy Sweepstakes – Official Rules
NO PURCHASE, PAYMENT OR OBLIGATION REQUIRED. A PURCHASE DOES NOT IMPROVE YOUR CHANCE OF WINNING.
Eligibility: The TenPoint Accuracy Sweepstakes ("Sweepstakes") is open to individuals who are legal residents of the fifty (50) states of the United States and the District of Columbia age 18 or older as of the date of entry and who post an image to Instagram and/or Twitter with the "hashtag" and "TenPointAccuracy" (#TenPointAccuracy) and "hashtag" and "entry" (#entry) or uploads directly to the sweepstakes webpage (https://www.tenpointcrossbows.com/tenpoint-accuracy-sweepstakes/) (collectively, Twitter and/or Instagram image with #TenPointAccuracy and #entry and direct upload images, referred to herein as "IMAGE" or "IMAGES") during the Sweepstakes Period.  If, after posting the IMAGE, a review is also submitted, that will entitle the person to one additional entry.  Persons who are immediate family members (parents, children, siblings, spouse) of, or live in the same household as, employees or directors, or are themselves employees or directors, of TenPoint Crossbow Technologies, or any of its parents, subsidiaries, affiliated companies, advertising or promotion agencies are not eligible to participate. By posting the IMAGE during the Sweepstakes Period, you agree to these Official Rules and to all decisions of Sponsor, which are final and binding. TenPoint Crossbow Technologies, 1325 Waterloo Road, Mogadore, OH 44260, is the sponsor of the Sweepstakes ("Sponsor").
Timing: The Sweepstakes begin on July 15, 2020, at 12:00 a.m. Eastern Time ("ET") and ends on August 15, 2020, at 11:59:59 p.m. ET ("Sweepstakes Period"). The server hosting the Website is the official time clock for the Sweepstakes.
How To Enter: There is no purchase necessary to enter or win. To enter, during the Sweepstakes Period, simply post an image with "#TenPointAccuracy" and "#entry" on Instagram and/or Twitter or upload directly to the sweepstakes webpage (https://www.tenpointcrossbows.com/tenpoint-accuracy-sweepstakes/). There are no limits on the number of IMAGES you may post and each IMAGE submitted counts as one entry into the Sweepstakes during the Sweepstakes. The same image submitted multiple times to Instagram and/or Twitter and/or sweepstakes webpage counts as one image even though it is posted to each media platform. For avoidance of doubt, (a) if the same IMAGE is posted to Instagram, it counts as one entry; (b) if the same IMAGE is posted to Instagram multiple times, it counts as one entry; (c) if different IMAGES are posted to either Instagram and/or Twitter and/or sweepstakes webpage, each IMAGE is a separate entry.  If, after posting the IMAGE, you also review the TenPoint and/or Wicked Ridge product, then you will gain one (1) additional entry.  Additional reviews of the same product will result in disqualification of all entries generated by reviews of that product, at the Sponsor's sole discretion. All reviews are subject to the terms and conditions applicable to use and posting on the Website. Do not write reviews of products you have not used. Please be truthful in your reviews of the products. TenPoint Crossbow Technologies expects that all product reviews accurately reflect the actual experience and opinions of the reviewers. Sponsor reserves the right to void entries that do not meet the requirements for appropriate reviews under its terms, in its sole discretion. Entries generated by a script, macro, or other automated means are not eligible. If you post reviews using a mobile device, standard data charges may apply from your carrier. Sponsor does not guarantee the public posting of any product review and reserves the right, in its sole discretion, not to post your review for any reason, including, but not limited to, if it contains any content that infringes upon the copyrights of any third parties; contains obscene, lewd or offensive language; contains gibberish or otherwise makes clear that the review is not valid; comments on other retailers or websites; comments on competitive products; or otherwise violates the terms and conditions.
By submitting any IMAGE and/or a product review, you hereby grant to Sponsor a perpetual, worldwide, irrevocable, royalty-free license in and to the IMAGE and product review, so that Sponsor has the right to use, not use, display, post, publish, copy, edit, and create derivative works from the review in any and all media, worldwide, without limitation or further obligation to you or any other party. By submitting any IMAGE and/or a product review and entering the Sweepstakes, you confirm and represent that your submission does not violate the intellectual property rights or other rights of any other person or entity.  IMAGES and Product reviews may be posted with the entrant's nickname on the applicable IMAGE and/or product's Reviews page for public viewing.  Any IMAGE and/or Product reviews submitted during the Sweepstakes Period may be flagged with a badge that says "Incentivized Review," which will inform Website visitors that you received a sweepstakes entry in return for your IMAGE and/or review. By submitting any IMAGE and/or product review during the Sweepstakes Period, you specifically agree to such use.
Selection and Notification of Winners: Sponsor will select a total of (3) winners from among all eligible entries received during the Sweepstakes Period. Odds of winning depend on the number of eligible entries received during the Sweepstakes Period. Potential winners will be notified via e-mail at the e-mail address provided in the product review associated with the winning entry on or about seven (7) days following the drawing. Potential winners must respond to the notification by e-mail before 5:00 p.m. ET on 8/20/2020, providing a full name, mailing address, and telephone number. The potential winners must also sign and return a Declaration of Eligibility and Liability/Publicity Release (except where prohibited) within seven (7) business days of receipt in order to formally claim the prize. If a notification e-mail is returned as undeliverable, or if a potential winner fails to timely respond to the notification e-mail with the required contact information, or if a potential winner fails to submit the signed documentation within the designated time period, or if a potential winner is found to be ineligible or not in compliance with these Official Rules, then that potential winner will be disqualified, the prize will be forfeited, and an alternate winner will be selected from among the remaining eligible entries for the Sweepstakes Period. Limit one prize per person/e-mail address/household address/telephone number during the entire Sweepstakes Period.
Prizes: Winners will receive a $100 online gift card that can be used only on www.tenpointcrossbows.com. All applicable taxes, fees and surcharges on prizes are the sole responsibility of winners. No cash in lieu of prize or substitution of prizes. Prize is non-transferable prior to award and must be accepted as awarded.  Returned prizes will not be awarded. Total value of prize is $100.00
The name of the prize winner will be announced on the Website 4-6 weeks following the close of the Sweepstakes.
Other Considerations: By accepting a prize, winners agree that Sponsor and those acting under its authority may use winner's name, nickname, and hometown for advertising and promotional purposes without further consideration, unless prohibited by law. BY ENTERING, YOU AGREE THAT SPONSOR, ITS PARENTS, SUBSIDIARIES, AFFILIATES, ADVERTISING AND PROMOTION AGENCIES, AND ALL OF THEIR RESPECTIVE OFFICERS, DIRECTORS, EMPLOYEES, REPRESENTATIVES AND AGENTS, WILL HAVE NO LIABILITY WHATSOEVER FOR ANY INJURY, CLAIM, LOSS OR DAMAGES OF ANY KIND TO PERSONS, INCLUDING DEATH, AND PROPERTY, DUE IN WHOLE OR IN PART, DIRECTLY OR INDIRECTLY, FROM PARTICIPATION IN THIS SWEEPSTAKES, THE ACCEPTANCE, POSSESSION, USE OR MISUSE OF ANY PRIZE, OR PARTICIPATION IN ANY PRIZE RELATED ACTIVITY. The Sweepstakes is void in all jurisdictions where prohibited.
General Conditions: In the event of a dispute, entries will be deemed made by the authorized account holder of the e-mail address submitted in the entry. The "authorized account holder" is deemed as the natural person who is assigned to an e-mail address by an Internet access provider, service provider or other online organization that is responsible for assigning e-mail addresses for the domain associated with the submitted e-mail address. A potential winner may be requested to provide Sponsor with proof that the potential winner is the authorized account holder of the e-mail address associated with the winning entry.
If for any reason the Sweepstakes is not capable of running as planned, including due to infection by computer virus, bugs, tampering, unauthorized intervention, fraud, technical failures, human error, or any other causes beyond the control of Sponsor that corrupt or affect the administration, security, fairness, integrity, or proper conduct of the Sweepstakes. Sponsor reserves the right in its sole discretion, to disqualify any individual who may have tampered with the entry process, and to cancel, terminate, modify or suspend the Sweepstakes, and to select winners from among the eligible entries received during the Sweepstakes prior to such event. Sponsor reserves the right to void suspect entries, in its sole discretion. The use of multiple e-mail addresses by a single individual to generate improper entries is prohibited and will result in the disqualification of any such individual found to be using such methods from participation in the Sweepstakes, as determined in the sole discretion of Sponsor. Sponsor assumes no responsibility for any error, omission, interruption, deletion, defect, delay in operation or transmission, communications line failure, theft or destruction or unauthorized access to, or alteration of, entries. Sponsor is not responsible for any problems or technical malfunction of any telephone network or lines, computer on-line systems, servers, or providers, computer equipment, mobile device, software, failure of any entry to be received by Sponsor on account of technical problems or traffic congestion on the Internet or at any web site, any combination thereof, or otherwise, including any injury or damage to entrant's or any other person's computer or mobile device related to or resulting from participation or downloading any materials in the Sweepstakes. Sponsor is not responsible for late, lost, illegible, incomplete, stolen or misdirected mail, e-mail or other communications.
Use of Data: Sponsor will be collecting data about entrants, in accordance with Sponsor's privacy policy. Please review Sponsor's privacy policy at http://www.tenpointcrossbows.com/pages/privacy-policy/. By participating in the Sweepstakes, entrants hereby agree to Sponsor's collection and use of their personal information and acknowledge that they have read and accepted Sponsor's privacy policy.
Disputes: Except where prohibited, entrant agrees that: (1) any and all disputes, claims and causes of action arising out of or connected with this Sweepstakes or any prize awarded shall be resolved individually, without resort to any form of class action, and exclusively by the United States District Court for the Northern District of Ohio (Eastern Division) or the appropriate Ohio State Court located in Summit County, Ohio; (2) any and all claims, judgments and awards shall be limited to actual out-of-pocket costs incurred, including costs associated with entering this Sweepstakes, but in no event attorneys' fees; and (3) under no circumstances will entrant be permitted to obtain awards for, and entrant hereby waives all rights to claim, indirect, punitive, incidental and consequential damages and any other damages, other than for actual out-of-pocket expenses, and any and all rights to have damages multiplied or otherwise increased. All issues and questions concerning the construction, validity, interpretation and enforceability of these Official Rules, or the rights and obligations of the entrant and Sponsor in connection with the Sweepstakes, shall be governed by, and construed in accordance with, the laws of the State of Ohio without giving effect to any choice of law or conflict of law rules (whether of the State of Ohio or any other jurisdiction), which would cause the application of the laws of any jurisdiction other than the State of Ohio.