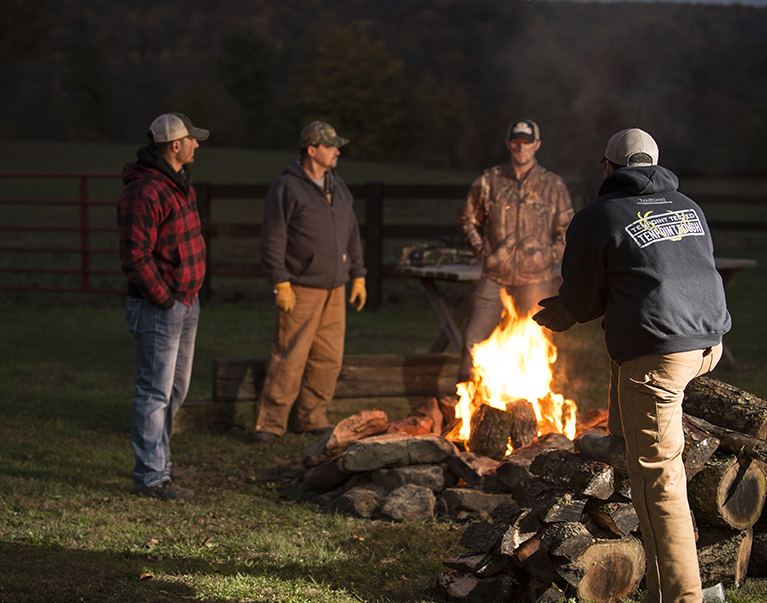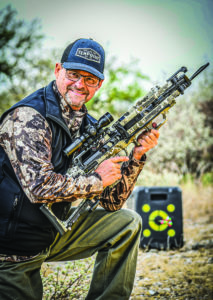 In January of 2020, TenPoint Crossbow Technologies entered its 27th year in business, but its evolution began with the upbringing of its Chairman, CEO, and President, Richard L. (Rick) Bednar. 
Rick's association with archery and the archery industry goes back to his youth when his parents, Archery Hall of Famer, Bill Bednar, and his wife, Edith, founded Portage Archery Center in Suffield, OH.  Rick and his sisters, Cindy and Joanna, who work for TenPoint as well, grew up in an apartment adjoining the pro shop building.  That shop still operates today as Hunter's Outlet Archery Center, a Division of TenPoint Crossbow Technologies.
As he grew up immersed in the family's business, his father, Bill, also coached him as an elite tournament archer.  Competing at the highest collegiate, national, and international levels, he traveled the world as a member of the USA Pan Am, World Target and World Field Archery teams; qualified for the 1976 Olympic Team; and won the NCAA Championship three-times at The University of Akron.  Both his retail and competition background nurtured a strong interest in and appreciation for bow design, performance, and engineering.
Following graduation in 1979, he went to work for specialty retailer, Cole National Corporation, as its Director of New Store Expansion.  Within two years, however, he knew his true interest centered on becoming his own boss.  He purchased the family business in 1981.  By 1983, he had added a wholesale distribution component to the retail operation called PAC Distributing.
Two years later, the distributorship caught the attention of a group of British entrepreneurs who convinced Rick to form an Ohio-based national sales and marketing organization to import and sell a line of crossbows – a market in its infancy – designed by British custom gun maker, Bernard Horton.  Within one year, it became clear that Horton's British operation could not produce and ship product fast enough to fill the orders Rick had written.  Realizing the crossbow business had great long-term potential, he convinced Horton to move the manufacturing to Suffield, Ohio, where sourcing component parts was a comparative breeze.
In 1985, Rick led the effort to recapitalize the new operation and incorporate it as Horton Crossbow Manufacturing Company, Inc.  In six short years as COO, he grew the company from zero to a thriving $4.5 million company, employing nearly 30 people. By 1990, Stark County recognized his success by awarding him their New Entrepreneur of the Year Award. 
The following year, he left Horton to start a new crossbow company – Hunter's Manufacturing.  His vision for Hunter's was significantly different than Horton.  Rick wanted to focus on building the highest quality crossbows in the world rather than the highest quantity.  
The difference between launching Horton in 1985 and Hunter's Manufacturing in 1994, however, was monumental.   Horton had the advantage of beginning its operations in an emerging market with no significant competition.  TenPoint started while the market was still in its infancy but after Horton had established itself as the industry leader. They sat out a non-compete covenant during the following year.  Then, on January 4, 1994, they and a small group of additional investors formed Hunter's Manufacturing Company, Inc., which now does business as TenPoint Crossbow Technologies and subsidiary, Wicked Ridge Crossbows, a second, value-priced brand introduced in 2010.
In addition, once TenPoint launched, Horton employed a strategy to block its progress at every turn, including filing a lawsuit which put a squeeze on Hunter's Manufacturing's operating capital.  Hunter's Manufacturing eventually reached an out-of-court settlement with Horton by the end of 1998.  The settlement awarded no financial compensation to Horton, but Hunter's did agree to change its trade name to TenPoint Crossbow Technologies beginning at the start of year 2000.
Even though the five years leading up to 2000 were difficult, the company, nevertheless, survived, managing double-digit growth each year.  With the lawsuit no longer a distraction, the marketplace started to recognize TenPoint's engineering and performance superiority.   In addition, the fledgling crossbow market began expanding at a slow but unmistakable pace.  That pace quickened in 2002 when a couple of southeastern states eliminated crossbow restrictions during their archery seasons.  Since then, what was a five-state market began to evolve – in domino fashion – into what is now an explosive and rapidly growing 20-state, full-inclusion –during-archery- season market.
While favorable state regulations created a welcome pathway to success between 2002 and 2019 for crossbow manufacturers, few companies were able to navigate that path as well as Bednar.  The company has grown from under 20 employees to 100 during that span.  In 2004, the Cleveland District of the U.S. Small Business Administration named Rick as its Small Business Person of the Year.  In the same year, TenPoint received its first Cascade Capital Business Growth Award, a tri-county growth award it has received every year but one since then.
Under Rick's direction, TenPoint secured its first patents in 1995 for a bow-to-barrel sound dampening system called the VibraCush and a dry-fire prevention mechanism called the Dry-Fire-Inhibitor.  Since then, the company has secured 29 additional U.S. and 2 Canadian patents with at least 19 more patents currently pending.  No other company in the industry has a record of technological achievement that can compare.
In 2008, Rick's oldest son, Phil, joined the company after graduating with an MBA from the University of Akron.  His initial assignment was to create the business plan for a new brand and to develop the marketing str ategy to launch it.  The brand was Wicked Ridge, an easy-to-manufactur e entry-level line of crossbows that – while simple in design- were nevertheless as durable, accurate, and dependable as their high-end TenPoint predecessors were.  Wicked Ridge is now an independently successful brand with 5 bow models ranging from $459-$899.
On July 8, 2013, Rick Bednar announced the purchase of selected Horton Archery LLC assets – namely machinery and equipment, trademarks and patents, and licenses – from Horton's secured creditor.  Horton had ceased operations in April 2013.  Horton was re-launched in 2015 with innovative, American-Made designs focusing on the reverse draw technology. 
Crossbow legislation has continued to expand with states such as Wisconsin, Missouri, and Kentucky getting full crossbow hunting seasons.  The expanded opportunities have helped crossbows grow tremendously popular as a hunting weapon, and crossbows have allowed many additional hunters to get in the woods.  
TenPoint has led the marketplace with their innovation throughout this expansion process.  They have provided the marketplace with new designs that are a mere 6-inches wide when fully cocked.  TenPoint is set to revolutionize the crossbow market in 2020 with the launch of its new ACUslide cocking and de-cocking system.  Far superior to any cocking or de-cocking system on the market, the ACUslide allows the user to silently cock and safely de-cock the crossbow.  The most innovative part of the de-cocking design is its ease of use – just simply backwind the handle – without fear of injury, bow damage, and losing control.